here's a link to a political test called the political compass.
http://www.politicalcompass.org/
It's a VERY interesting site, and the test is very simple (though a little long), take it an tell me where you're at.
It measures where you stand politically on coordinate plane, with the x-axis being how far left or right you lean economically, and the y-axis being how socially permissive or authoritarian you are.
here's where I'm at (and the US presidential candidates, red is Republican, blue is Democrat, although Mike Gravel is now a 3rd party candidate) I just cut and paste my button, I'm not Republican, it just happened to be red, I swear! :lol: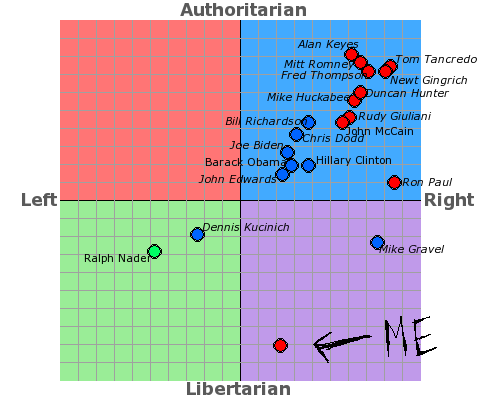 And down here are where some political figures are at (I think their head is where they are
at
if their body is showing.) and I'm also pretty sure that Friedman and Adam Smith are farther to the right then their heads suggest.
http://i292.photobucket.com/albums/mm12/retina-scan/Copyofpolitical_compass.png