Sooo! I have two things to tell the world today. First and foremost is that we (or rather…squeaky wheel) want to talk to YOU, yes YOU about politicians in your country. Political Animals, the Political strategy game by Squeaky Wheel that I am publishing, wants your input to make its 'events' in the game as varied, international and cosmopolitan as possible. I think the team pretty much have the whole range of Philippine politics nailed down, but do you have some funny/shocking/unbelievable stories about politicians in your own country? In that case the animals want to know: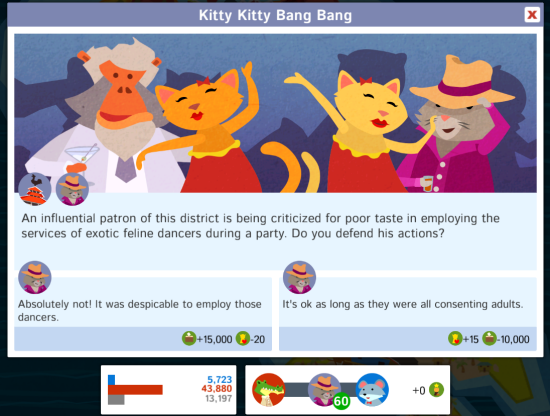 Click here to suggest your political events for political animals.
I'm sure you will have a lot of ideas. Even just in the UK we have politicians who claim duck houses and moat cleaning on expenses, who get their wife to pretend they were not speeding, who get drunk and set fire to curtains, who nip out of prison for a spot of lunch, and so on… I'm sure readers in Italy will have a long list involving mr B :D.
---

In unrelated news…Democracy 3:Electioneering is out soon…this Friday in fact, so with that in mind I put together this snazzy guide on gameplay that walks you through everything new coming to the game, just in case you missed these four videos about the new DLC :D.