Soooo…I went to rezzed, which was cool for two days and then I just wanted it to ENDDDDDDDD. I get very burned out by shows. I could talk at length about how I was one of the chosen 0.00001% who got to try Valves new VR thing, and how it is just awesome and even better than the one I saw last year, but you know all that kind of thing anyway, and nobody will believe me until they try it…
I've been back working in GSB2 land since then, tweaking, adjusting, bug fixing and generally doing the 101 jobs you have to do before shipping. The current projected shipping date for GSB2 is April 16th. before then I need the trading cards set up, final bugs squashed, French,German and Spanish translations done and integrated, Linux & Mac ports done (hopefully), the final release trailer done, and some missing stuff like medium & hard difficulty enemies set up, plus default ship designs for every ship (only some are done so far). Plus those missions need some more interesting starting restrictions (something planned for today). With any luck, all that will be done by release day. Yay!
I've been advertising on twitter lately, with both GSB (a bit) and Democracy 3 (a lot). I got a few people complaining that they saw the ad too many time, which seems nuts because I have selected a very large group of people to target, and they shouldn't really have seen it twice. I pestered twitter who said 'you don't need to limit frequency, our algorithm does that' to which I had to refrain from replying 'Sack your fucking programmer then'. The thing is, if you write an app that hooks into the twitter API they have a variable to set the frequency, so as usual, the front line customer service rep knows fuck all about their own product, and as usual (as with google, facebook…) I am more informed about their advertising delivery system than they are. Grrrr…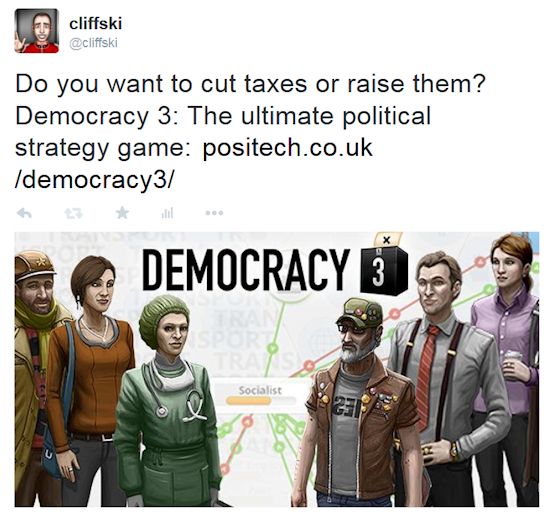 Apologies if you see an ad from me too many times. You can always just click 'dismiss'.
And on that topic…why do people get so annoyed at seeing a promoted tweet. Twitter is a business. Businesses need to pay their staff and server costs. If you really object to twitter ads, ask for a refund…oh wait.

There is an argument that twitter should allow ad-free subscription service too, but they don't, and frankly that isn't my fault :D. Ho hum. I guess if people think they see too much promotion from me now they may have to go hide in a cave when I release GSB2 :D