October 09, 2012 | Filed under: business
008
This is a difficult concept to describe, or rather, a difficult one to describe without giving the wrong impression. I'm not attempting to criticise any content creators whatsoever here, just offering a perspective on how I see various marketplaces.
I think there is a relatively new (or to be more accurate, a suddenly hugely influential) phenomena of sudden, almost random, and fairly inexplicable popularity of individual pieces of media, which I'm going to try and call 'flashmobbed success'.
I reckon there are basically three routes to success, and the flashmob version is the third one. Firstly, we have the traditional old school route to success. People who create something work hard, come up with a good product, put their name out there, and people like it. A combination of word-of-mouth, some movers-and-shakers putting in a good word, a little dash of luck, and some canny re-investing of profits from success into some decent marketing leads to a product that gradually builds up and sells well. Generally, there is critical acclaim for the product, and generally, people think it is a hit based on its merits.#If you'd like what I consider to be a gaming example of this, I'd say World of Goo, also Braid, also Elite, Age Of Empires, the majority of games… The film 'Alien' and for that matter 'star wars' (the original movie).
The second route is the money/hype/big cynical corporate route. This is where so much marketing muscle is thrown at a product that it becomes successful through inertia. The majority of big budget blockbuster movies go this route, also a fair chunk of the modern console games, which sell millions despite not being remotely polished or original in any way. The vast vast majority of movie-tie-in games follow this route too. Generally, these products are not considered to be critically good, and the assumption is often that the vast media budget is what enabled them to become such a hit. Sometimes, rarely, a huge marketing budget and hype does actually accompany something truly good which would have done well on it's own merits such as Avatar, but I think that's rare. I'd say the Godzilla movie, and most of the mission impossible movies and clones fit here. So does 'Battleship'.
But now we have a new phenomena. The sudden rise to incredible popularity, stardom and sales/revenue which seems to happen for no discernible reason whatsoever. Like the gangnam style video, or a number of PC games. In these cases, nobodies motives seem sinister, but for whatever (probably very innocent reasons), a bunch of well-connected people with a lot of social connections all happen to like the same, slightly random thing. Very quickly, the popularity of it will spiral into self-fulfilling prophecy mode, where success breeds success which breeds success.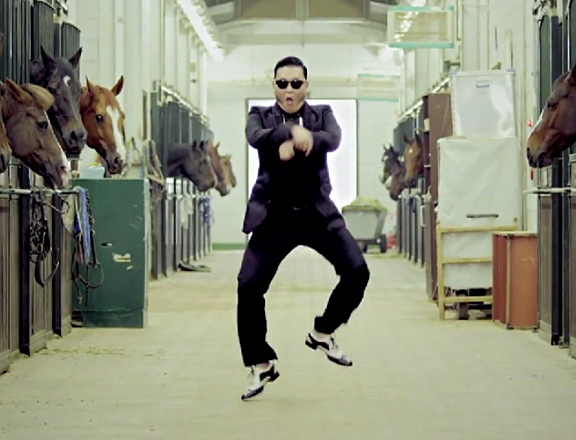 Why should we care?
The problem is that this phenomena is the absolute antithesis of the beneficial nature of the 'long tail'. A system which encourages popularity amongst that which is already popular (and thus least in need of exposure) reduces consumer choice and narrows the range of entertainment available to all. If TV news covered my game 'Democracy 2′ they could likely treble it's sales overnight, but of course instead, they will cover the games people already know about, because they have already sold 10 million copies…
It's frustrating from the POV of a small time creator of content because it both irritates and encourages despair. Realizing your product is not good enough to achieve market success is sad, but encourages you to work harder. Realizing that success is almost random encourages you to just throw more crap at the wall until some of it sticks.
So who is to blame? Maybe the media to some extent by perpetuating the virtuous circle of decent sales = free press coverage = more sales, but in their defense, the press wants to cover what people want to read, and generally, people don't want to discover new things, they just want validation that what they already like is good.
Is it me that sees this as a new, and worrying phenomena? The extent to which social media connects the whole world so intimately seems to me to be making it worse. We have had annoying and inexplicably popular novelty songs before, but not ones from South Korea. How long before the whole world is truly one entirely homogenous marketplace, with no local variety and a single, all-knowing top-ten list for everything?
I truly hope not, but the signs are not encouraging. It looks to me like the long tail theory was dead wrong. People still gravitate to what everyone else is enjoying it's just that a random selection of undiscovered media gets picked and thrown in there as the new blockbusters.