I'm just not sure…
The majority of tower defence games (and on this issue, GTB can be considered one, even if it's vastly different to it in many other ways). Take a very simple approach to showing you the health of enemy units. A simple green/red bar over the top of the unit is displayed all the time, simple as that. I have always found that to be horrendously ugly and clunky, and was very very pleased with the solution I had in GTB, which was chunked-circles of health/shields/armor that gave you much more information in a much nicer way (if you ask me :D).
However… deciding HOW to display health is only half the issue, the other half is of course, whose health to display.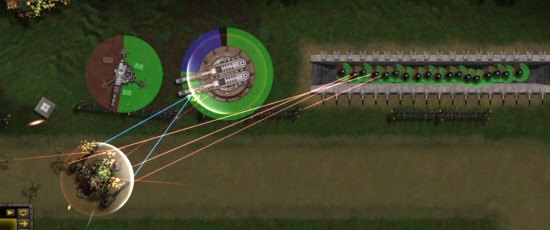 The first beta release of gratuitous tank battles only showed health circles for your units, and only when a unit was selected. they defaulted to all off, but you could (temporarily) toggle them all on with a fairly hidden shortcut key.
Due to public demand, I've improved that so there  is a button for health circles, they default to 'on' and they will stay on all the time if you prefer. There is no way to see the health circles for enemies.
My reasoning is thus. You get an extra bit of unknown-information tension in the game when the exact health of an enemy unit is unknown. As a potential game-winning enemy unit trundles towards the exit square, you have to bite your nails and hope those gatling guns you have trained on it are going to finish him off before he gets off the screen. It's tense, it's worrying, it's exciting, and it builds suspense.
This is my view, but I know some people are shocked to find that the approaching enemies do not have health bars. I guess the tradition with tower defense is to show them but I'm pretty certain there is no set rule for an RTS game, and certainly none in an FPS game. Why the convention for TD games? Does it make the game too easy, too predictable, too much a simple matter of number crunching?
I'm willing to be argued round, but I'd rather balance GTB to be one way or the other, than take the easy route and just give the player the option. What do you think? health bars on or health bars off?