On Friday we noticed our youngest (3 years) cat had stopped eating and was subdued. Jack ALWAYS wants to eat, so this was very weird. He didn't show any interest even in cat treats. Throughout Saturday and Sunday we got more and more worried because he had eaten almost nothing and didn't seem to want to move. He also wanted to sit outside in the rain.
Monday morning he went straight to the vets. He had a high temperature and an eye infection, which they gave him injections and eye drops for. On Tuesday, he went back to the vets after nothing much had changed (eyes were better but he still wouldn't eat). They admitted him to a proper Rolf-Harris style pet hospital. There was talk of x-rays and blood tests and more.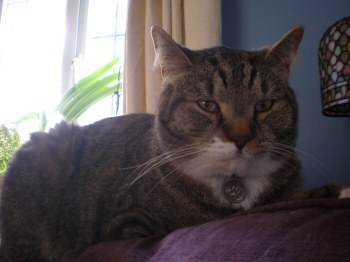 The vets couldn't take a blood test,a s they encountered heavy resistance from jacks claws, so they put him out for an x ray and took it while his shields were down. The results were grim, because he had serious liver and kidney problems somehow. I still suspect he has eaten something out in the garden that was a mistake.
Anyway, they kept him in overnight and put him on a drip, and did some other technical things that I don't understand, but which make for a long and expensive price list.
This morning he is all better, he is eating, and I just picked him up and bought him home. he meowed all the way home but jumped straight out of his box and landed right by his food bowl, so he is back to normal :D
It's great to have Jack back. The only problem is the fact that his Vet bill is a collosal chunk of this months games revenue. We need a national health service for cats :D